Lady Elliot Island
Arrived just in time: While we'd planned to sail straight to Lady Musgrave, the ocean wasn't on our side. We traveled all day with 2knots of current against us. We were moving at about 7knots through the water and only doing 5knots over the ground. Thankfully we arrived at Lady Elliot right on sunset. Phew!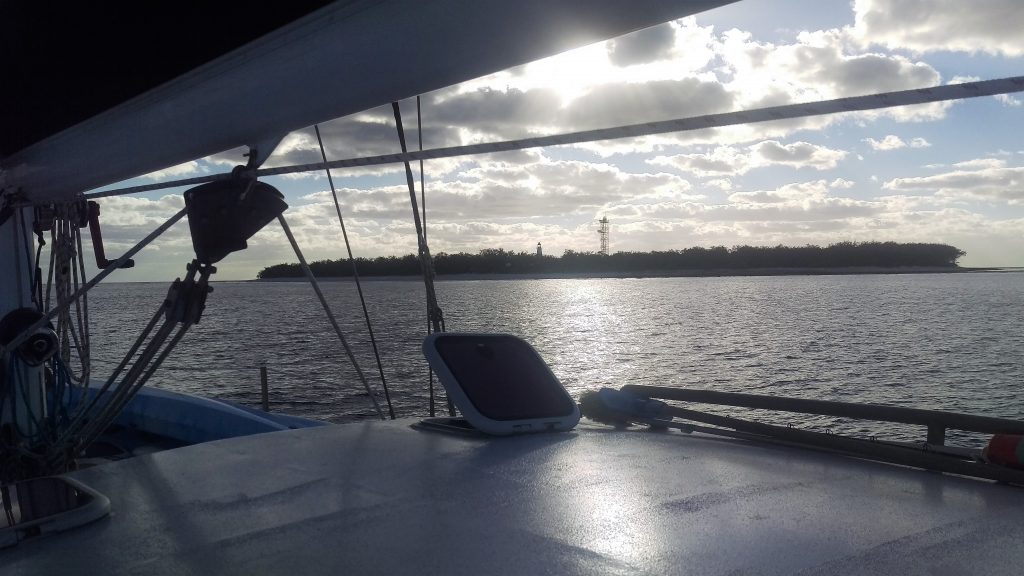 A story about a whale: It's dark. Everyone has gone to bed. I'm sitting alone at the main table doing some work. Out the port-side hatch, I hear the strangest noise. At first, I think it sounds like a horse, then I think it sounds a bit like a dog. I come to my senses, remember we are floating in the ocean, jump up and grab a torch. I go out into the cockpit and shine the torch in the direction of the noise. It's pitch black and I can't see a thing. But then I hear it again… far out… woah… it's a whale! I'm standing in the cockpit listening to a whale breathing right next to our boat. It doesn't seem to be going anywhere, it's just floating at the surface, breathing through its blow hole. I sit quietly and listen for as long as I can hear it. What a wonderful experience. Just me and the whale, hangin' out at Lady Elliot.
Manta rays: The next morning we were preparing to do the 3-hour sail to Lady Musgrave when Simon and I were both up on deck. There was a commotion in the water and we both looked over to see a school of manta rays flapping around on the surface right near our boat. Then, joy of joys, one leaped out of the water right in front of me. So beautiful!
Lady Musgrave Island
Dolphin welcoming committee: check out this video of our arrival at Lady Musgrave.
Snorkelling: Markito and I gave our snorkeling gear a workout. It was great to get in the water and build our confidence again after having not been snorkeling for a few years. We saw lots of beautiful little fish but alas, our underwater camera ran out of battery!
Reef walk: We did some great walks around Lady Musgrave, including walking all the way around the island – our second circumnavigation of an island on this trip! We also walked out to a section of the reef that is exposed at low tide. After checking out lots of black sea slugs, sea snails, star fish, clams, crabs and coral,  Simon came across a red sea slug (or Spanish Dancer) washed up on the beach. He moved it down to a little rock pool and we spent ages watching its mesmerizing movement in the water.