It's been just over a year since we bought our boat and now I'm sitting here typing this up on the third day of our trip. I still can't quite believe it.
This has been such a huge commitment for us. All the decisions we've made over the last 12 months have revolved around this project. Simon's spent all of his energy designing, researching and working on the boat. I've spent all my energy earning enough income to cover the costs of the boat. We've spent a lot of time apart, but have none-the-less worked together to run our household and support each other as best we could. It's been the busiest year either of us has had for a long time, and sometimes it's been exhausting and stressful.
The last few months have been particularly intense. In February, I went on my first overseas work trip on my own for 3 weeks. It was an important and challenging experience for me as I'm expanding my work and learning a lot in the process. During that time Simon looked after the kids and built a wooden dinghy under our front veranda.
A few days after I got home Simon moved onto the boat and spent the next 2.5 months or so working on it full-time. Finally, in the middle of May, we packed up our house and moved the whole family onto the boat. For the last few weeks, we've had 5 of us living in a tiny house that rocks around and is being renovated.
The transition to living aboard was relatively smooth. The kids adapted quickly and somehow Simon and I have both found the time and space we've needed to get our work done. Markito (8 years old) described his experience recently in a message he wrote to his class back home.
So far living on the boat is fun and also very complicated. It's complicated because there are a lot of different rules. Like you can't just put plates and bowls up on the bench, you have to put them into the sink. If you put them on the bench then when the boat rocks they might slide off and break. You also have to watch where you're going, communicate a lot, and be very careful getting off the boat when you have to climb up a ladder onto the jetty.
Before we left, people often asked if I was feeling excited about the upcoming trip. My answer was usually some variation of: "yeah, sort of, but not really." At that time I was so busy preparing that I didn't have much time to feel excited. Sometimes I felt fleeting excitement when watching youtube videos of other people sailing because I could imagine myself doing what they were doing. But there were still so many unknowns – Will I learn to sail fast enough so I can help out effectively? Will I like it? Will I be able to manage my workload while we travel? Will the kids get seasick?
Now, 3 days in, there are still lots of questions – but do I feel excited? HELL YEAH! When we left Hastings jetty and I was standing on the side of the boat waving goodbye to my Dad who'd come down to see us off, I was really bloody excited. I couldn't wipe the grin off my face. I was ecstatic! And so were Simon and Markito. Meanwhile, the twins barely registered what was happening as we had them bundled away inside the boat watching a video, which was its own kind of perfect as we wanted them to feel comfortable and calm.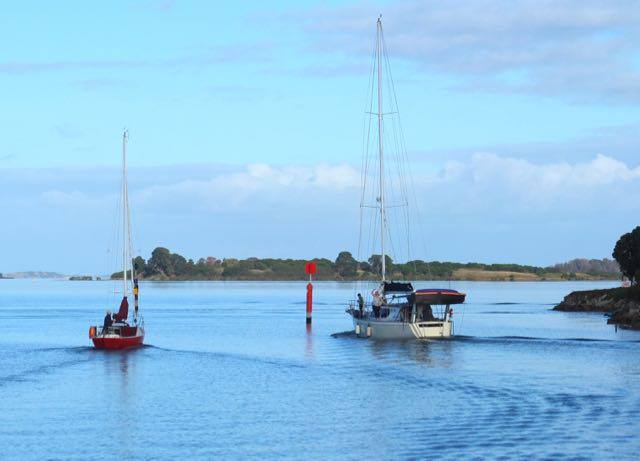 Thanks so much to everyone who came down to visit us on the boat in Hastings. We really loved showing you where we live now and sharing our plans with you. Also, we are immensely grateful for the support of some particular family and friends who have provided a range of very practical assistance to get us to this point – you know who you are!