We've spent the last 5 months and a lovely summer at home in the mountains of Northeast Victoria, while Red Dragonfly has been on a swing mooring at Marina Del Ray at Gili Gede in Southwest Lombok, Indonesia.
We had two big questions in coming back to the boat:
How on earth were we going to get an oversized 20kg package of solar panels to Lombok? (Simon)
How much mould would we find on Red Dragonfly after she'd been cooped up over the Indonesian wet season? (Mayra)
The solar panels were fine for the international flight. We dropped them off at oversize luggage in Melbourne and there they were, waiting patiently for us in Denpasar. But when we made a last-minute decision to grab a domestic flight from Denpasar to Lombok over the car hire and ferry option, we ran into some trouble. The last minute-ness of that decision resulted in us accidentally buying flights that had only 10kg luggage allowance. Eeek! For the first leg of the journey to Indonesia we were allowed 20kg each and Simon, Master Bag Packer, had carefully measured out every one of the 97kg we brought over.
Would we have to pay a kazillion dollars in excess luggage? Would they accept oversize luggage on a small aircraft? Simon carried 97kg of stress weight on his shoulders as we lined up to check-in. I put on a very friendly smile and spoke in extremely polite Indonesian… And…. WHAT A RELIEF! The excess only came to $36 and the airline staff didn't even blink at the size of our ungainly package. Phew! We were all smiles as we hung out at the Denpasar domestic airport terminal for the next 2 hours (we were very early ?).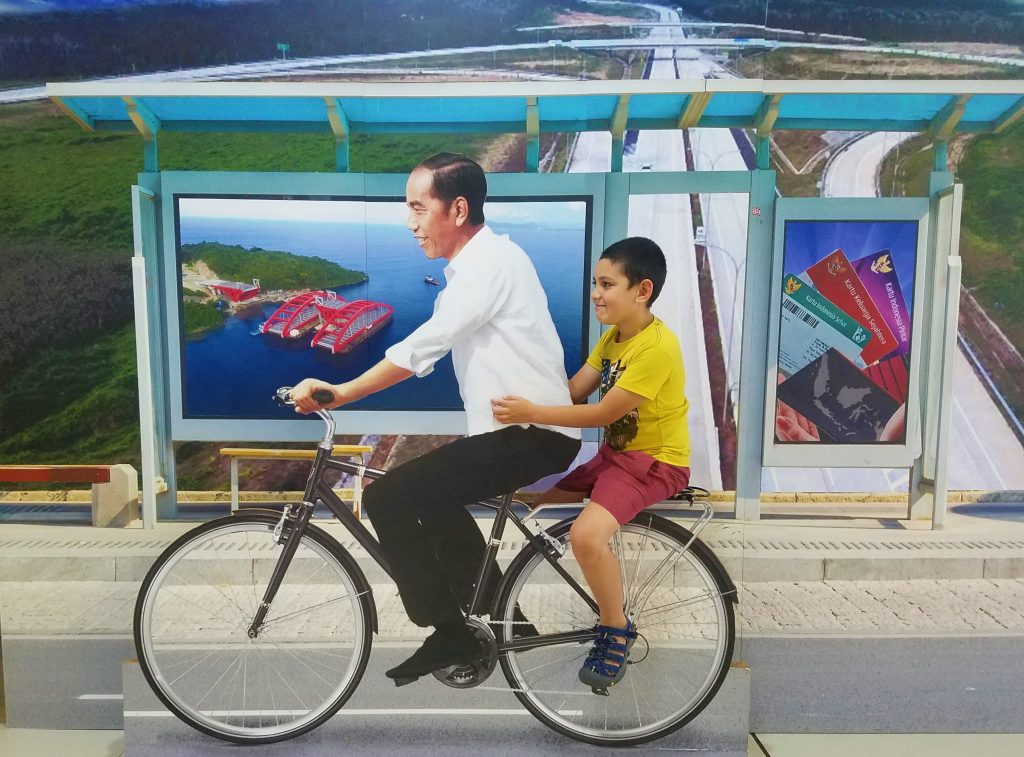 The next challenge was would the solar panels fit on top of the car that picked us up at the Lombok airport? Thankfully our special request had got through and a van appeared that could handle the awkward sized panels. Simon had a brilliant idea to slide them inside the van (so they didn't scratch the paint on the roof), and then promptly claimed the front seat because of his long legs – ok, truth be told I encouraged him to sit in the front.
"Don't worry," I said, "I don't mind sitting hunched over in the back with my head on a really awkward tilt next to 3 tired and fidgety kids for the 1.5hour drive." Psst. This is where you, the reader, say "Wow what a lovely wife Mayra is. Chivalry is not dead." And then I say, "that's right, I am lovely and generous and I think it's important in a relationship that everyone takes turns being chivalrous."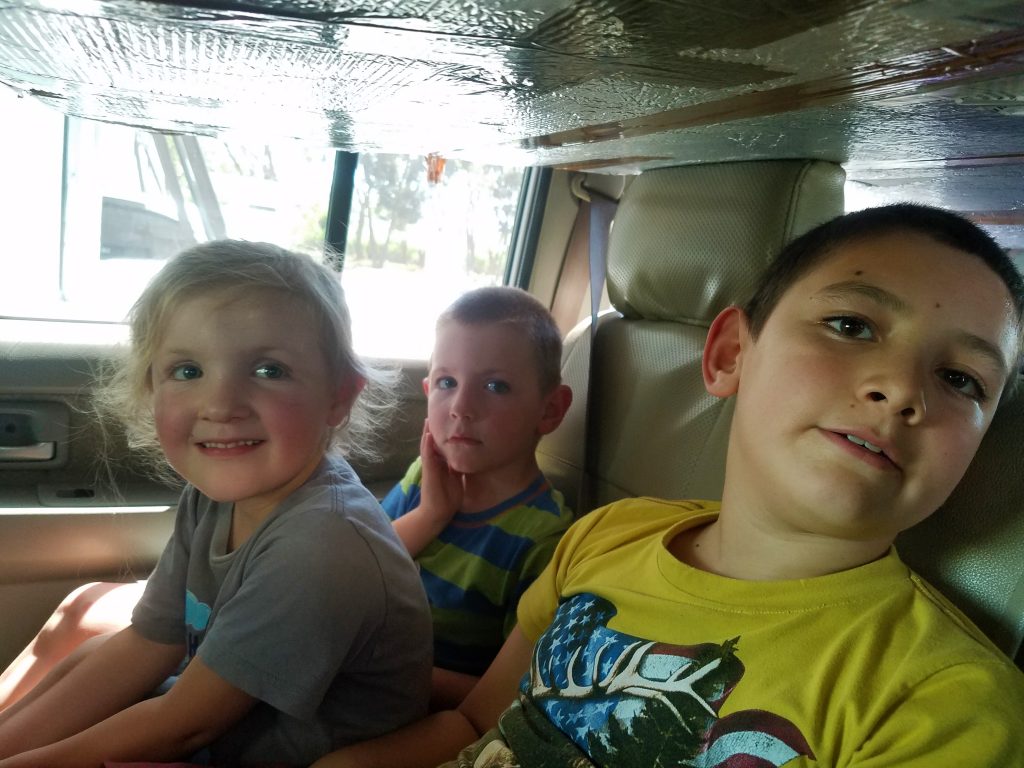 Our solar panels (and us) finally arrived by boat at the lovely accommodation we'd booked for 2 nights at Palmyra Indah (highly recommend), just across the strait from where Red Dragonfly was moored.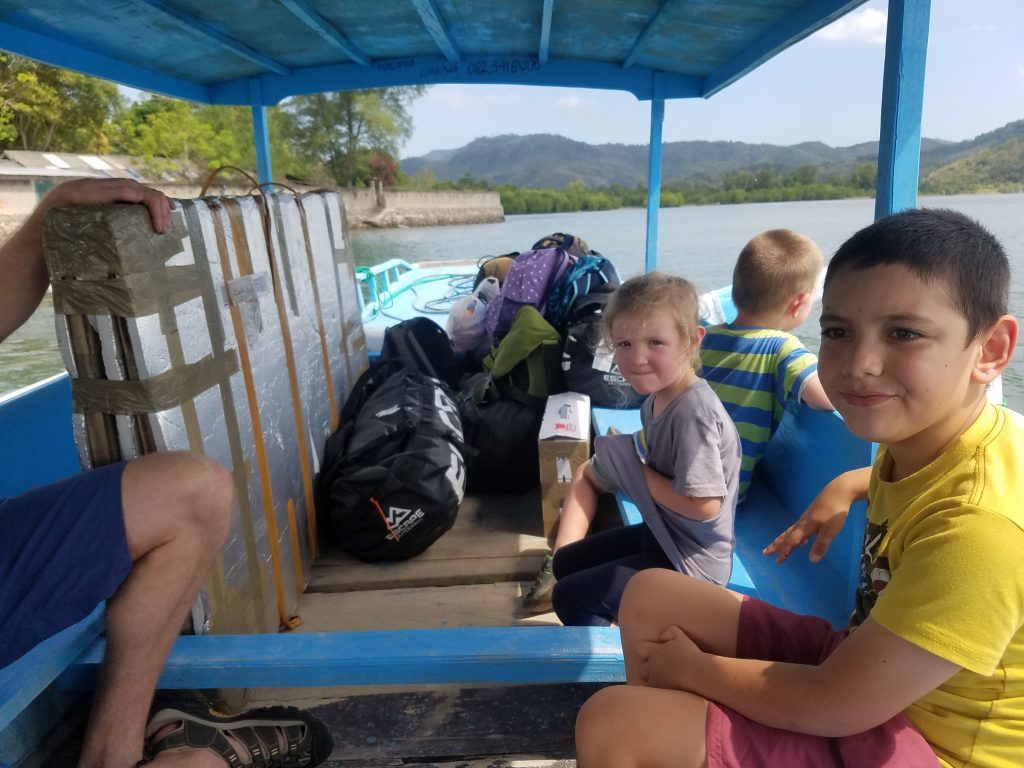 Simon felt relief at the solar panels safe arrival, and I felt increasingly nervous about what we would find on Red Dragonfly the next day. No mould? A little bit of mould? A boat full of mould? Lots of money spent on accommodation and eating out while we clean the boat for the next week?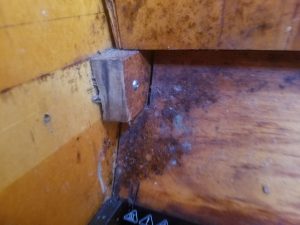 I had already prepared a mould scale to help me assess the damage. On the scale 1 = no mould and 10 = boat full of mould.
Red Dragonfly scored a stunningly beautiful TWO. What a delightful number that is. There were little bits of mould here and there, but nothing a quick wipe-down with vinegar couldn't fix. The next question surely must be: how did we achieve this incredible feat?
Mayra and Simon's Successful Recipe for Preventing Mould on a Yacht in the Wet Season
Wash everything that can be washed: sheets, towels, cushion covers, mattress covers
Put as much as you can into those awesome vacuum bag things and store them away
Eat all the perishable food and put everything else in air-tight containers
Thoroughly vacuum everywhere the vacuum cleaner will go
Wipe every surface in the whole boat with a mixture of vinegar and tea tree oil
Leave large bowls of vinegar in the sinks (kitchen/bathroom): the vinegar will evaporate slowly
Make sure you don't have any leaks on your boat
So here we are back on board for our 2018 sailing season. Hopefully, we can all remember the tricks and routines we worked out last year!