We are in Cairns.
Simon and Markito went into town today and came back with two big bags full of fruit and veggies, about 1/4 of which was bananas. We love bananas. Banana pancakes. Banana milkshakes. Banana boats (cut a wedge along the top and spread some nutella in there, then put some sprinkles on top – the kids go nuts for it!). Traditional plain banana bananas. Where was I?
First I packed the fridge full of fresh veggies. Then, there I was re-organizing the freezer to fit in another bag of frozen veg, when I came across some Unidentifiable Frozen Objects. What the?
"Simon, what is this stuff in the bottom of the freezer?"
"It's the frozen fish… remember?"
OMG! Yes! We caught a fish.
We had always planned to fish as much as we could on this trip. However, despite our enthusiasm, we only had a kids fishing rod and tackle box on board. Having finally got organized and bought some good fishing line and lures in Mooloolooba, we were disappointed to be putting the line out day after day and not getting so much as a bite.
That was until that fateful day back on August 15th. The day we left Airlie Beach to sail to Townsville, and then here to Cairns. It was late in the afternoon when we noticed a commotion in the water and the line jerking.
"A fish! A fish!" Simon yelled. I ran through the boat and leaped into the cockpit. Simon had already started pulling the line in, so I grabbed some gloves, ready to pounce. While Simon has done this before, it's the first fish I've ever caught, so it was instinct rather than skill or experience that was guiding me.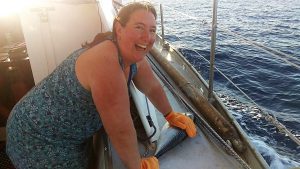 Simon pulled the beautiful mackerel tuna up onto the deck and I held onto it, a huge grin spreading from ear to ear. I was seriously excited.
Markito found it difficult to watch Simon cutting the tuna to kill it, particularly the blood draining onto the deck. He disappeared into his bedroom for a while and came back out later, when we were able to have a chat about what had happened, why, and how he'd felt about it.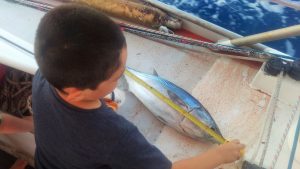 The twins, however, didn't have an emotional response, just a curious one. Having watched the whole
scene unfold, Zach was still working out what exactly was going on and asked, "can it still swim?". Having explained that it's dead now, Freyja chimed in with, "now we can make sushi!"
We cooked up some of the red fleshy meat for dinner that night, and also froze some of it with plans to use it for future fishing endeavours. Hence the fish in the freezer today.
As I said, we're in Cairns. We've been here for about 2 months. Too long really. But if you're going to get stuck somewhere while you're living on a boat, I'd recommend Cairns. Why? Because…
The weather is lovely. Warm days, cool nights (at this time of year anyway)
Everything we need access to is walking distance from one of two jetties (**important)
There are quite a few places you can anchor
There are lots of other lovely boat families here (we've met seven!)
There is an awesome free public swimming pool – The Lagoon
There are some fantastic kids parks. Our regulars have been Muddy's water park and The Fig Tree playground
Free wi-fi around town and at some cafes
Marlin Marina is great. We stayed there for a few nights when grandma came up to visit, and they've been receiving mail addressed to us ever since! Thanks guys 😉
Cairns loves fireworks! We've seen 3 fireworks displays during our time here
Cairns gets a few demerit points as well though. Mostly because of the sandflies living among the beautiful mangrove trees that line the river where we are anchored. I love the mangroves. I love seeing their roots exposed at low tide and being surrounded by so much greenery. However. To put it simply: the sandflies love me and I hate them.
Although we would've preferred to not stay this long, we've got a lot of work done while we've been here. Simon has re-painted the deck and the pilothouse, painted inside the pilothouse (the loungeroom), painted the tender, put more storage nets up, installed a courtesy flag halyard, put our new decal stickers on, installed the AIS and a freshwater hose in the cockpit, among other things. We've completed our boat registration and received the certificate (big job!). I've translated around 35,000 words from English to Tetum. And the kids have, well actually they haven't been very helpful. They just play. And sometimes make us laugh, which I guess is its own special kinda helpful.
Now we are (finally) ready to leave.
Goodbye Cairns and all the wonderful people we've spent time with. Thanks for hosting us while we got ourselves sorted out.