It took us 3 days to sail from Darwin to Dili. We expected to have around 10-15 knots of south-easterly winds pushing us across the Timor Sea and then no wind for the last 24 hours as we traveled along the north coast of Timor. In fact, the opposite occurred. We motored for the first two days as the wind completely dropped out. Then we sailed all day on the third day along the coast, arriving in Dili at 7am on Tuesday 7th November. Ah sailing… gotta be flexible! But hey, the weather was calm and the trip was comfortable.
After heading north for 48-hours, the first sighting of foreign land at the eastern tip of Timor-Leste was super exciting. The current was against us, so it was slow going as we turned left past Jaco Island and started heading west along the coast. We particularly enjoyed the experience of sailing past Baucau (the second biggest city) just as the sun was setting. We watched as twinkling lights appeared in the main city area, then gradually spread up through the surrounding hills, creating a sparkling oasis amongst the dark surrounds.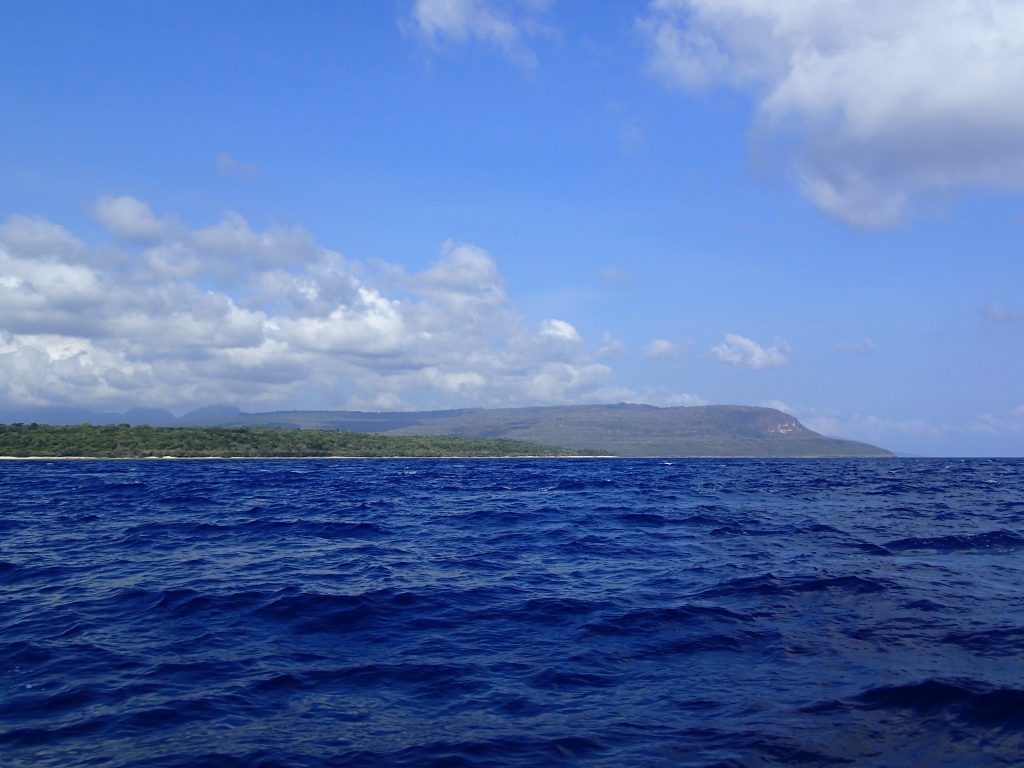 We successfully timed our arrival with sunrise. As we approached the harbour I called Port Control 3 times on the VHF radio. "Dili Port Control, Dili Port Control, this is sailing vessel Red Dragonfly, Red Dragonfly. Do you copy? Over." I felt a bit nervous as it was the first time I'd done this, but was also disappointed when we didn't get a response. We cautiously headed in, following the red and green markers guiding us through the reef. Once anchored, we hoisted the yellow quarantine flag up alongside our national Timor-Leste courtesy flag.
Technical note: Foreign yachts must display a yellow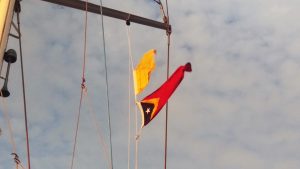 quarantine flag until the check-in process is complete, which typically involves visits with Immigration, Customs, Quarantine and the Harbour Master. The national courtesy flag is flown for the duration of a yachts stay in a particular country, and the yacht's national flag is always displayed.
Simon and I experienced an unexpectedly strong and very welcome sense of excitement at having arrived in Timor-Leste, our first foreign port. We kept looking at each other with disbelief, joy and pride at our achievement. These feelings lasted all morning and helped us get through the bureaucratic procedures we had to navigate with three bored and hot, but patient, kids.
This is not our first time to Timor-Leste. I first visited 18 years ago, in December 1999, when I was 17 years old. I have come to this country nearly every year since then, and spent several years living in Dili. More recently, Simon and I have brought the kids over together. We had planned to spend several months in Timor this year, however, delays meant that we only had 1 week. We spent a super busy week with family, friends, and friends who have become family.
A major highlight was having people visit Red Dragonfly. It was really special to share our floating home and tell stories that friends could truly relate to once they'd seen and experienced the set-up for themselves. It can be difficult to describe this cruising lifestyle to someone who has never sailed, and extremely difficult to describe it to East Timorese friends whose only point of reference for boats is shipping containers, ferries and small fishing boats. A yacht? What's that? As Jimy said when I called to tell him we'd arrived, "are you staying in Beto (a suburb in Dili)?" "No Jimy, we are staying on our boat." "Oh dear, you poor things".
I'll let the photos tell the rest of the story. Our apologies to anyone we didn't have a chance to see. We'll be back in Dili with Red Dragonfly next year! See you then.